His death in a plane crash meant a triple loss: for Puerto Rico, because he was a national hero; for sports, because he was a baseball superstar; and for the whole world, because he was a kind and compassionate man.
By María Isabel Cáceres
On December 31, 1972, Puerto Rico celebrated the occasion with its traditional street dances, fireworks, and cheerful Latin American music. I spent the night at my mother's house in Carolina. At about 5 a.m. I was awakened by someone knocking on the door. I thought at first that they would be friends dedicated to prolonging the celebration of the new year. But it turned out to be a boy from the local pharmacy, where I work in the evenings. Very aggrieved, he told me: "Rumor has it that Roberto's plane has been lost.
I felt too stunned to answer. Awkwardly, without believing him, I turned on the radio and we all heard the news that the plane of the flight organized by Roberto Clemente to bring aid to the victims of the earthquake in Nicaragua had plunged into the sea.
As I waited against hope, telling myself that Roberto was a swimmer, I was engulfed in the memories of the man I had seen grow up, since he was a shy boy, and become one of the greatest ballplayers of our time. He seemed so invincible on the baseball field and did so much for others that I found the disappearance of Puerto Rico's national hero inconceivable.
My earliest memory of Roberto is of a very thin teenager throwing empty cans hitting them with a broomstick through the dusty streets of Carolina. His father worked on a sugarcane farm, outside the town, and Roberto and his three brothers grew up always playing ball. I remember with special clarity the first day he attended high school in Carolina, where I taught history and physical education. Then I allowed my students to choose a seat in class and Roberto occupied a very inconspicuous one, in the last row of the room. When I addressed him, he answered in a low voice, without looking up. Despite his shyness and sadness of his gaze, there was something in him that attracted. Later he used to visit me at my house a few times, and then we would put on some phonograph records that he liked. He especially liked to listen to the traditional dances of Puerto Rico.
However, in athletic activities that delicate and shy boy was transformed into a tenacious competitor. He was magnificent at the high jump and throwing the javelin, and he would hit softballs enormous distances. My ex-husband, Roberto Marín, and another coach, Juan Pérez, soon discovered the young man's extraordinary abilities and put him to play on the amateur baseball team called Sello Rojo.
Mastering the craft. After just one season, Roberto moved on to the Santurce Crabbers, where many well-known stars of the Major Leagues of the United States play ball in winter. The Crabbers signed Clemente, then 17, but didn't put him into play immediately because he couldn't hit low curveballs. He practiced a long time to overcome that difficulty and finally became part of the lineup. After three good seasons with the Santurce team, Roberto was selected by the Pittsburgh Pirates in the 1954 draft.
Although the Pirates had finished in last place in their league for three consecutive years, the 20-year-old new player from Puerto Rico was quick to help them improve their position. Delighted by the way he batted, fans of the Pittsburgh team shouted "Arriba!" whenever Roberto went to bat. Standing far off the plate, with his head wobbling, like a rooster, he used to hit any ball. In one game, when three different pitchers for the Cincinnati Reds tried to throw him inside, in the middle and then outside, Roberto hit three home runs. He was also an outfielder or "outfielder" with superb coordination and was perhaps the one with the best throwing arm. (He had hands so strong that he bent nails with them.)
Nervous and sleepless, he also suffered from the way he played, as he gave himself body and soul to the game. On one occasion he needed 12 stitches in his chin after he dove into the stands in search of a ball. He suffered countless other injuries: chipped bones, blood clots, damaged discs. He hurt himself so often that they teased him by calling him a hypochondriac, which bothered him a lot. On one occasion Juan Perez, his former Carolina coach, joked with him at a party about his chronically sore back, and Clemente instantly took off his shirt and had Pérez run his fingers over the damaged vertebrae of his arthritic spine.
But the more injuries Roberto suffered, the better he played. Six years after being drafted by the Pirates, they defeated the New York Yankees in the 1960 World Series, in which he played a leading role in obtaining the victory. Danny Murtaugh, who had been Roberto's manager for years, called him "the greatest player I've ever encountered."
A compassionate man. Although he was not accessible to just anyone, once Roberto became friendly with someone, he became the warmest of friends. For example, when some of his acquaintances from Puerto Rico settled in Pittsburgh, he helped them find employment and housing. Convinced that sports contribute to good citizens, he lavished time and money to help young baseball fans.
I had the opportunity to see for myself his great kindness. On one occasion, when I was suffering from back pain, he came to visit me at my house in Carolina. "I'm going to take her to be seen by a doctor," he told me. He lifted me in his arms, placed me in his car and drove me to San Juan to be examined by his doctor. He repeated it 15 days in a row, until I healed. When I asked the doctor how much I owed him, he replied: "Nothing. That's already paid for."
Every year, when Roberto returned to the island to spend the winter there, he used to show up at our high school to attend a day of track and field organized in his honor. "How is my teacher?" he asked me, smiling. "You never get old." Then he traveled the entire island in his car. "I like to get the kids together," he said, "and discuss with them the importance of sports, of being a good citizen, of respecting parents."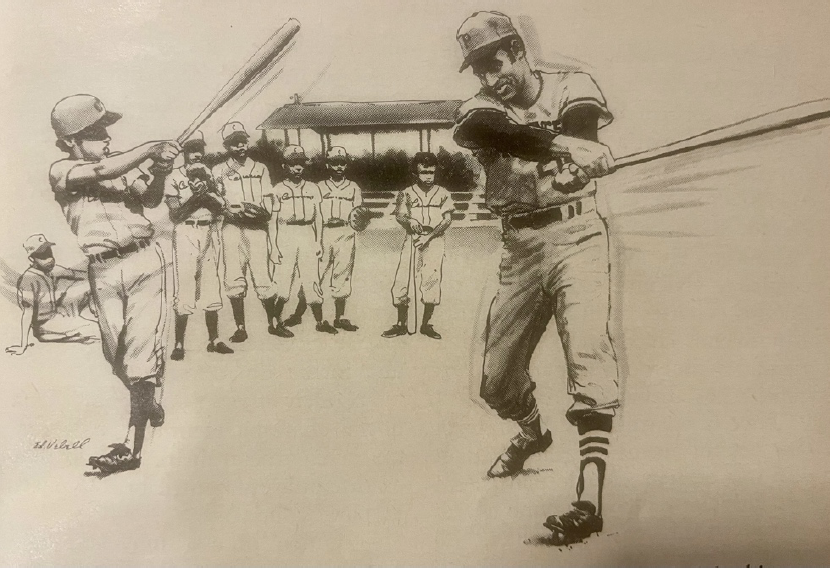 His golden dream was to build a Sports City in which the youth of Puerto Rico would have the the best facilities and the best coaches for free. "Here they spend many millions of dollars to combat drug trafficking," he once said, "but they deal with the problem after it has appeared. We have to help the boys before they become addicted, and sports are one way to do that."
Who is that girl?" One night he was chatting with me at the pharmacy where I work, when a former student of mine opened the door to greet me.
– Who is that pretty girl? – asked Roberto.
"It's Vera Cristiana Zabala," I replied. And she's not only pretty, but also very intelligent. Roberto went after the girl and introduced himself. "I just met my future wife," he told a friend of his that same night. And shortly after I attended Roberto and Vera's wedding in the church of San Fernando, in Carolina. What a magnificent couple they were!
Already married and raising a family, Roberto continued to advance with his baseball career, and his salary reached $150,000 per season. My students watched his career with great enthusiasm, and they teased me when, rarely, Clemente performed poorly or complained of an injury. "Again with back pain?" they asked, laughing, knowing of my special predilection for him.
Although on the field he acted with passionate intensity, off the field he loved to tell jokes, especially at his own expense. He often remembered the day he took his father, who knew nothing about baseball, to his first game. That day Roberto's teammates were easily making outs. Finally, Clemente hit a home run and quickly ran around the bases to Homeplate. "No wonder you sing so much!' his father later told him. " The other players go only to first base and then return to the dugout. You, on the other hand, run all the bases." As he told this, Roberto laughed.
The supreme moment. In 1971, Puerto Rican residents in New York organized a party in Roberto's honor at Shea Stadium. I then witnessed my former student play in front of 44,000 spectators, the boy I had seen hitting empty cans with a broomstick. That was the most memorable moment of my life!
A few weeks later Roberto led the Pirates to their victory over the World Series favorites, the Baltimore Orioles, hitting a home run that scored the decisive run in a 2-1 game. When he was later interviewed by television reporters, he asked permission to direct a tribute to his parents, who were in Puerto Rico. "At this moment, the happiest of my life, I ask your blessing," he begged with characteristic humility.
A Las Vegas nightclub offered him $20,000 to show up there for a week, but Roberto turned down the offer to spend with his family, a husband and father devoted to his home, he used to phone his wife every night when traveling with his team. He never felt happier than when he was with his wife and three children; However, his fame grew and he did not have as much time as he would have liked to devote to his family. Requests to visit hospitals, participate in civic programs and deliver speeches were constantly pouring in. He spoke then of the opportunities available to those who strive to seize them.
In December of last year, when the terrible earthquake in Managua struck, Roberto was especially moved. He had been the manager of the Puerto Rican team that had just played in that country in the World Series of amateur baseball and had made very good friends in Nicaragua. He was asked to lead a campaign to help the victims of the earthquake and he accepted with his usual enthusiasm.
Using radio appeals and going door-to-door in affluent neighborhoods, Robert and his collaborators gathered about $150,000 in cash and several tons of food, clothing and medicine. Clemente helped load a specially chartered DC-7 plane, deciding at the last minute to make the trip himself to make sure the supplies reached Nicaraguans who needed them.
As the sun rose over the glittering Caribbean Sea, my vivid memories of Roberto were cruelly interrupted by the confirmation, transmitted by radio, that his plane had indeed disappeared into the sea and all hope had been lost. The whole of Puerto Rico was plunged into sadness. Governor Luis Ferré decreed three days of mourning and Rafael Hernández Colón, the governor-elect, who was due to take office on January 2, canceled all social activities related to the transfer of powers. People removed the festive decorations and replaced them with black crepes. Radio stations broadcast the traditional dances that Roberto loved so much.
I attended the Mass for the dead in the same church in Carolina where I had attended their wedding eight years earlier. Roberto had left us much to remember. During the 18 years he played with the Pirates he won four league batting championships and the award given to the best player. His career batting average was .317; the highest of all active Major Leaguers with ten or more years, he won 12 Gold Glove Awards* for his excellent fielding and his mark of 3000 hits was a feat matched only by ten other players in all of baseball history. Nevertheless, he remained a humble, compassionate man, concerned about the problems of others.
Roberto seems to have achieved in the dead what he could not realize in life: his dream of a Sports City for young Puerto Ricans. The Clemente Fund, formed after his tragic death to carry out his plans, now totals more than $500,000 (more than $200,000 donated by baseball fans), and growing. So, although Roberto is gone, he continues to help his fellow man.
*On March 20, 1973, the Baseball Writers Association elected Clemente to the Hall of Fame, ignoring the five-year period that must ordinarily elapse between the end of a professional player's active career and his candidacy.